Automation is a hot topic right now. With labor shortages in almost every industry, skyrocketing operating costs, and decreasing revenue flow, it seems like everyone is searching for a way to increase efficiency without adding team members.
This inevitably leads businesses to automation solutions. But if you've never worked with robotic process automation (RPA) before, getting started can be intimidating. How do you know what platforms are worth your time and money?
We'll be upfront and honest with you: At EnterBridge, we're avid supporters of UiPath. We've researched and tested a lot of platforms — we've even tried building automation bots without a pre-built platform, and we found one clear winner.
UiPath won every single time.
In this post, we'll share everything we've learned about building RPA and why we think UiPath is far and above the best platform choice.
What Makes UiPath Unique?
The way users and analysts alike talk about UiPath immediately sets it apart as an industry leader. On G2, a B2B software customer review site, UiPath is consistently ranked as the best RPA software. It received the Customer's Choice Award in 2021 from Gartner Peer Insights, as well as top rankings in 2021 and 2022 on other user review sites like TrustRadius, Peer Spot, and Software Reviews.
UiPath is ranked among the best on trusted analyst reports, as well, such as the Gartner Magic Quadrant (pictured below), the Forrester Wave, the IDC MarketScape Vendor Assessment, and Everest Group PEAK Matrix.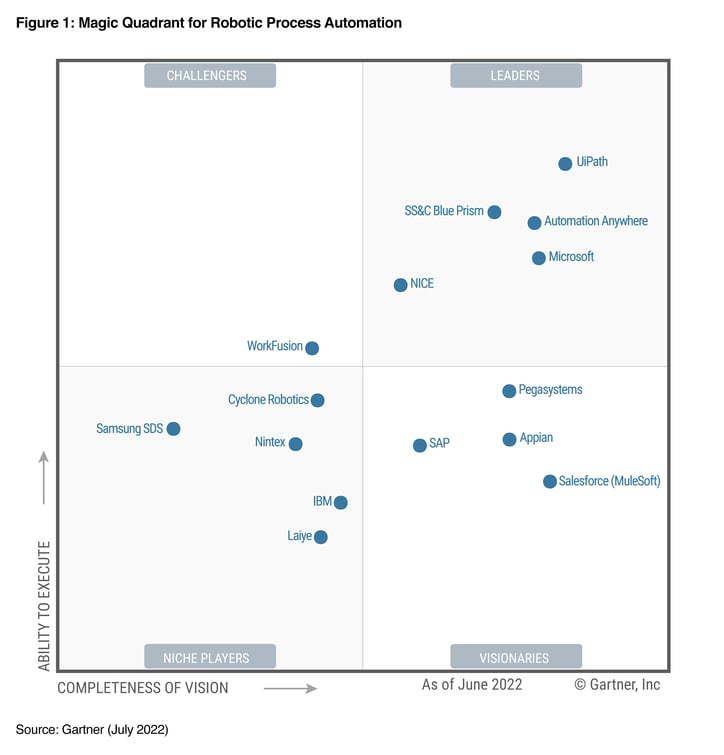 It's evident based on UiPath's market presence and user reviews that it's highly trusted, easy to use, and meets or exceeds the expectations for an RPA development platform.
Differentiating Features
One of the primary reasons we love UiPath is because they have the widest array of features that allows you to automate virtually any workflow — from data entry to invoicing and more. They continually lead the market in feature releases and capabilities, and they host regular thought leadership summits and feature release events. Among the platform's most notable innovative features are:
Document Understanding – UiPath's version of document processing that extracts and interprets information from scanned documents
Optical Character Recognition (OCR) – create automations based on what can be seen on a machine screen
Natural Language Processing (NLP) – provides a human tone to automated chatbots and communication
Artificial Intelligence and Machine Learning for process and task mining – automation that can learn from data to perform repetitive tasks and solve problems
Another feature that gives UiPath an advantage over competitors is that automations can be deployed both on-premises or in the cloud. This allows industries with high privacy standards (like healthcare HIPAA requirements or banking privacy laws) to own and manage their bots on-premises with no concerns about compliance infractions.
Our Review
We've compared UiPath with other RPA platforms, and they just don't stack up. The ease of use and customer support of UiPath are truly unmatched. There's also a large online community of UiPath users who can help you troubleshoot any issues that might arise.
We've found other platforms difficult to work with and maintain. They're missing key functionalities, there's a lack of company and community support, they're too niche (e.g. industry or app-specific RPA platforms), and there's a lack of ongoing innovation with other platforms. Too often it felt like we had to bend our clients' processes to fit their automation capabilities, instead of their platform supporting our needs.
UiPath, on the other hand, is developer- and user-friendly, extremely feature-rich and flexible, has a ton of company and community support, and is constantly innovating and adding new features and functionality.
It's important to remember that UiPath, while low-code and user-friendly, does require technical knowledge and acumen to implement. If you don't have the in-house bandwidth or expertise to implement automation through UiPath, the platform offers a robust partner network to help you find the right developer to execute your automation vision.
UiPath Competitors
To help you make direct comparisons, we've analyzed 3 of UiPath's competitors so you can see their features side by side.
Automation Anywhere
Automation Anywhere is widely regarded as the second-best option for RPA software. Their platform includes many of the same features as UiPath, however, the functionality is much more limited.
Pros
Some pros we've seen with this UiPath alternative is that their automation "control room" is very intuitive and easy to use. Another feature that our developers enjoy is that it provides an option for a comprehensive list view, which allows devs to dive deeper into the code to find errors quicker.
Cons
As mentioned above, a significant drawback is that their advanced features lag behind UiPath and it seems their commitment to innovation overall has slowed down.
Additionally, in recent years, Automation Anywhere has moved away from on-premise deployment, and now heavily emphasizes cloud-based deployment. Cloud-based deployment has a lot of advantages that we encourage our clients to utilize, but we appreciate having the option for either on-prem or cloud deployment based on our clients' needs. Automation Anywhere doesn't have as much flexibility in this category.
Another con we've come across is that sometimes their bug fixes or new feature releases actually limit previous capabilities. There have been times when developers were taken by surprise with the updates and the automation they had built suddenly became unusable.
Key Differentiators
A major differentiator between these two platforms is that although licensing costs are comparable, you get more comprehensive features with UiPath.
Cloud-based automation deployment can be a great option for certain organizations, but for others, it isn't an option. This is true for many industries with high regulatory compliance standards like healthcare and finance. Highly sensitive data has to be stored and processed on-premises, which Automation Anywhere doesn't accommodate as well as UiPath.
Another thing to consider is that UiPath's internal framework creates shorter times to deployment, which leads to a quicker ROI. The UiPath framework has built-in logging and error handling; features that need to be written or tweaked by developers with Automation Anywhere.
Microsoft Power Automate
In terms of ongoing innovation, Power Automate, in our opinion, is the only potential competitor to UiPath. With Microsoft's recent investments into artificial intelligence, we could potentially foresee Power Automate one day catching up to UiPath's features and perhaps even keeping pace.
Pros
Some of the major pros of Power Automate is its simplicity. As a Microsoft product, the interface is user-friendly and familiar, plus it's lower code than any other product on the market. That makes the learning curve much less steep than for products like UiPath or Automation Anywhere.
Another pro is that the cost for Power Automate is much lower than competitors, and their pricing structure is very transparent. You can see exactly how much you'll be paying right on the website.
Cons
The main drawback to Power Automate is that it's a much newer product and doesn't have the capabilities to do large-scale, enterprise-wide automations. It's not feature-rich or mature yet.
Key Differentiators
Overall, Power Automate is a great product. It's easy to use and cost-effective. If Microsoft chooses to develop Power Automate into an enterprise-level automation platform, it could be a great option in the future. But there's no guarantee that the tech giant will take their platform beyond personal automation software.
As they stand currently, Power Automate and UiPath aren't direct competitors — they're attacking different segments of the same market. If you're looking for small-scale automations, Power Automate would be a great choice. However, if you are looking to implement large-scale projects across your whole organization, UiPath is the better option.
Blue Prism
Blue Prism was actually the first-to-market RPA product back in 2003. They're even credited with helping to coin the phrase "robotic process automation."
Although they were an early leader in the automation space and continue to be listed among the top RPA providers, they lag in feature development and enhancements.
Pros
One of the major pros for Blue Prism is that the software is very stable. Other RPA softwares have been reported to crash from time to time at very high-volume thresholds. However, stability does come at a tradeoff for innovation.
The limited capabilities with Blue Prism lend itself to more stability, but the cost is that it can't automate highly complex business processes.
Cons
While starting out as a market leader in the early 2000s, TechCrunch reported in 2021: "Blue Prism, by its own admission…was facing tough times and has been exploring its options," despite RPA being a fast-growing industry that year. This downturn in their market share led to Vista buying out the company.
Perhaps the sale will lead Blue Prism to more of a foothold in the fast-growing industry, but its continued lack of market share in the RPA space makes it a weaker investment.
Blue Prism also does not support "attended bots" which is a type of automation that requires some human intervention. These bots are useful for multi-step processes that involve human strategic decision-making, with the rest of the process run automatically by the bot.
Lastly, some developers have reported that Blue Prism's user interface is not comprehensive or user-friendly.
Key Differentiators
Overall, Blue Prism is far behind UiPath in features. In addition to very limited capabilities, the investment cost is also much higher than UiPath.
It could be an option to consider if stability is more important to your organization than innovation, but we wouldn't recommend it because you would be paying a higher price for limited functionality.
Bonus Comparison: Olive
Olive isn't a true competitor to UiPath, but we included it in this analysis to demonstrate why we don't endorse industry-specific automation software platforms. Olive was founded in 2017 and received a lot of hype and funding as an automation platform built specifically for healthcare revenue cycle management.
Unfortunately, Olive grew too fast, overpromised, and under delivered. According to Insider Intelligence, Olive promised their tech would lower healthcare admin spending by 5 times, and the results were nowhere near that ballpark.
Olive was organized as a consulting engagement, with revenue cycle experts brought on premises to implement automations. However, many healthcare organizations that started with the Olive model quickly realized they wouldn't be able to automate any repetitive processes that fell outside of the sphere of revenue cycle management. So they switched to a new, more comprehensive automation software platform, like UiPath.
This tends to be the danger with niche automation platforms: It's not comprehensive enough to scale enterprise-wide. So you're left to choose between onboarding yet another software program and having two automation software programs running parallel, or trying to migrate your existing automations to a more comprehensive RPA system.
Neither are ideal options, which is why we wholeheartedly endorse starting with UiPath. It will yield successful automations in any part of your business so you don't have to silo the benefits of RPA.
Choosing Your RPA Software Platform
Overall, we find UiPath is hands-down the best choice for an RPA platform. This opinion comes after extensive research and testing to find the best product to use for our clients. However, if you're still determining which software is right for your business, here's a brief checklist of the three criteria you need to consider:
Scalability — Can the platform scale up or down to meet your evolving business needs? You want room for your processes to evolve as your business evolves. This is why we suggest staying away from automation platforms that are too niche or industry-specific.
Security — It's important to remember that sensitive customer data will be processed through your chosen RPA platform. You need to ensure the platform has robust security features like user authentication, access controls, encryption, and data masking features for authorized personnel users. Consider how you control your data and who "owns" it, as well.
Capability — It's obvious that the market is evolving at a rapid pace, and you don't want to be left behind. Choose an RPA software that gives you the capabilities you need now, and the capabilities you'll need in the future.
Choose the Best Platform for Your Business
Robotic process automation is continuing to emerge as an essential business practice across all industries. It's a surefire way to increase efficiency without having to increase your staff. Plus, it's known to deliver a quick return on investment.
When it comes to choosing your automation platform, there are many software to consider. We hope this quick analysis gives you a good insight into which platform might best suit your business.
And if you want to talk more about what platform will be best for your business or take the first step toward digital transformation, feel free to schedule a call with us. We'd be happy to help you evaluate your options.